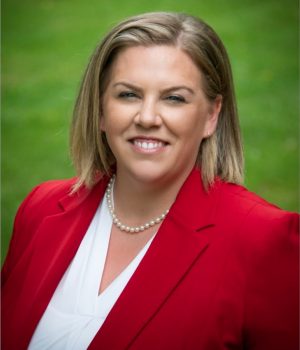 I was born and raised here in DeKalb County. I am a graduate of Sycamore High School and Kishwaukee Community College.


I have been married to my husband, Joe, who is my best friend, for six years. We planted our roots in rural Kingston where we are raising our four amazing children. They are without a doubt my greatest accomplishments in life. I feel truly blessed every day to have such a loving and supportive family.


I began working for DeKalb County Government 14 years ago. I am very fortunate to have been hired by former County Clerk & Recorder Sharon Holmes. Throughout my years in the Clerk's Office, I was crossed trained in all aspects of the office from Recording to Vital Records, to Tax Extension, to Elections.


For the past 8 years, in addition to being a Deputy Clerk, I also simultaneously serve as an Executive Assistant to the County Administrator, a Secretary to the County Board, the Forest Preserve District, and the Public Building Commission.


I feel that my vast experience and tenure in the Clerk's office make me an ideal candidate to serve the people of DeKalb County.


I have found that moving around in my various positions has provided me the amazing opportunity to be able to understand how DeKalb County Government works essentially inside and out. I have spent hundreds of hours in County Meetings acting as a sponge and soaking up all of the history and information I could take in.


I have always loved working for the County and I truly do enjoy the position that I am currently in but as much as I have learned and as much as I am currently involved with, I still have felt like something is missing. After much thought, I now know, that it's because, in my heart, I truly am a Public Servant. Serving the citizens is truly what I love about working for the County.


At this moment in my life, I feel that all of the opportunities I've been granted, the hard work and time I've dedicated, and the lessons I've learned over the years.